Benefits
If you are looking for an inclusive work environment where you will feel valued, receive great pay and benefits, and make a difference in the lives of young children, then YOU belong at CAP Tulsa!
Working at CAP Tulsa Means:
Doing meaningful work that will make a difference in the lives of young children and their families
A Strategic Framework that supports our vision of Child, Family, Community, and Organizational Success so all employees can see their role in supporting our mission
Joining an organization that has been nationally recognized as a "Best Nonprofit to Work For" by Nonprofit Times, and as a "Top Inclusive Workplace" by Tulsa Regional Chamber's Diversity Business Council

Shared Core Values that shape the culture and set the expectations for how employees work together
An inclusive environment that is committed to Diversity, Equity, and Inclusion for employees, children, and families
Employee satisfaction is measured, input is valued, opinions are collected in quarterly pulse surveys, and actions taken in response to employee feedback are shared

Highly competitive pay and annual Cost of Living Adjustments (COLA), as determined by the Office of Head Start, for all positions
Opportunities for professional development and career advancement
Tuition Assistance for job-related undergraduate degrees up to $4,250 per year
100% vested in retirement savings in 403(b) plan from date of hire with employer matching 50 cents on the dollar up to 6%

Full-time and part-time positions available
Set Monday-Friday work schedules
Child Development Associate (CDA) credential is fully paid for with guidance and support provided during regularly scheduled work hours
In-service, on-site professional development for teaching staff to maintain credentials
Instructional Coaches at every school to assist and support teachers
State-of-the-art schools and playgrounds designed to facilitate and enhance early learning
Fully supplied classrooms with additional monthly classroom materials budget eliminating any personal out-of-pocket expenses
Guaranteed low teacher-student ratios per Head Start standards:

2:20 in 4-year-old classrooms
2:17 in 3-year-old classrooms
2:12 or 2:8 in 2-year-old classrooms, depending on funding
2:8 in Infant/Toddler rooms




Generous Paid Time Off (PTO) starting with 120 hours (15 days) of PTO in the first year that increases with tenure and can be banked up to 240 hours (30 days)
PTO cash-out options in May and November
24 hours of Flexible Paid Time Off (FTO) awarded on January 1 to all employees for illness, emergencies, mental health, medical appointments, or other time off needs
10 paid holidays plus two weeks of paid time off for winter break for all employees
Teachers and school-based staff also enjoy one week of paid time off for spring break and one week of paid time off for summer break
Paid bereavement leave

Paid Family Leave for new moms and dads and adoptive parents at 60% of base pay for up to 6 weeks to bond with newborn or adopted children
Flexible spending plans for dependent care and healthcare
Life Insurance equal to 1x annual salary with additional voluntary coverage option available

Affordable health care coverage including medical, dental, vision, and mental health plans for the whole family available the 1st month after hire date
Majority of total health insurance premium costs subsidized by CAP Tulsa and managed by BlueCross BlueShield
Many ZERO-cost and low-cost medical and mental health options:

MDLIVE - 24/7/365 virtual access to non-emergency care with a $10 copay
CareATC – FREE in-person primary care at conveniently located clinics
Zero Card – FREE imaging, labs, and select medical/surgical procedures
Rx-N-Go – FREE generic medications
Cancer Care – FREE oncology nurse support to assist from diagnosis through treatment
Women and Family Health, Pregnancy & Parenting Support – FREE access to Ovia Health apps for Fertility, Pregnancy, and Parenting
Well on Target – FREE app for self-guided courses, programs, and tools to support health and well-being
Modern Health – FREE mental health program for therapy, personal coaching, online tools and resources, as well as 24/7 live Employee Assistance support
Medefy App –FREE 24/7 access to personal Care Guides that provide expert benefit guidance to help you navigate your health plan options, answer coverage questions, coordinate referrals, and more

Flexible spending plans for dependent care and healthcare
Short-Term and Long-Term Disability insurance plans
No joining fees and a 22% discount on membership rates for access to all YMCA locations in the Tulsa Metro area 
---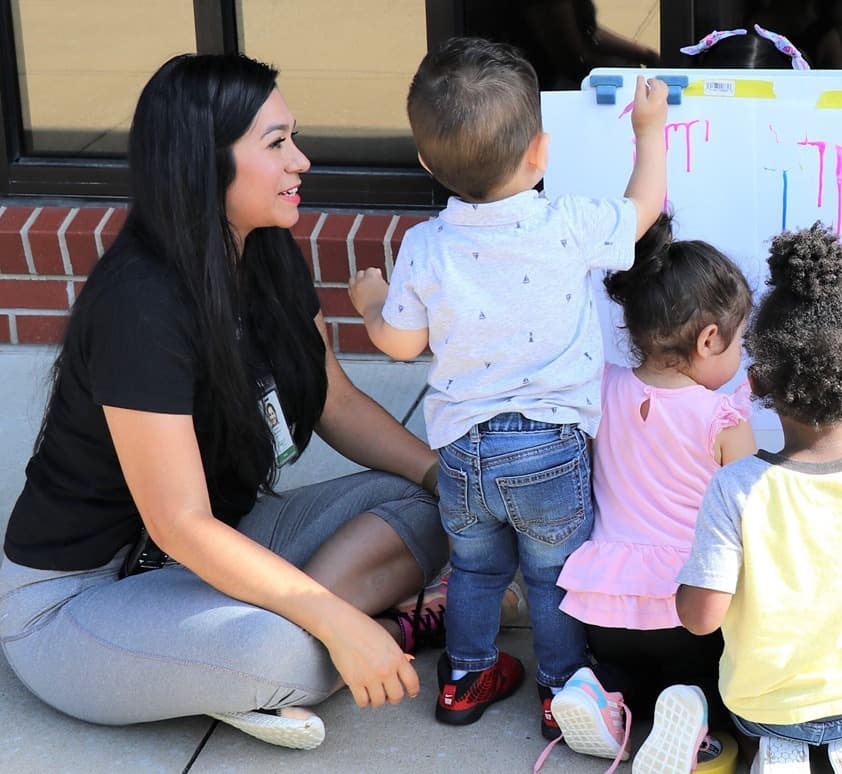 "I've learned so much at CAP Tulsa through our training. They've had people come in and explain what happens, and how much a child's little brain develops in those first three years. And you think, 'Wow, I really am important!'. This is an important job, and you know you're making a difference. It's really rewarding because you see them go from an infant, to talking, playing with other kids, and developing their own interests."
- Karen D.

CAP Tulsa is an equal opportunity employer and is committed to the principles, ethics, and practices of Affirmative Action in all employment practices and services provided within the community.